Who was Carney Robinson
and
What can we learn from his life?
By Steve Baker, nephew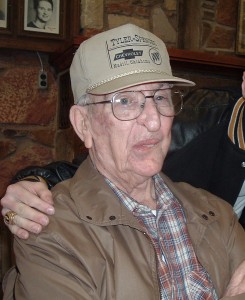 Some might say he was hard headed and stubborn and maybe even liked to argue just for fun. Carney also loved being outdoors. He continued hunting and fishing after he was very sick, even though he had to depend on someone else to drive and load his dogs or load his boat and taking him fishing. His love of outdoors was a great match up since hunting and fishing provided many opportunities to argue for fun and to be hard headed and stubborn. For instance, the last time Carney went fishing, he was so weak that he stumbled and tripped around nearly every step, but insisted it was safe for him to be in a tiny two man boat without a life jacket. After fishing for a long time and catching quite a few nice fish., we decided to quit. After he insisted on helping load the boat, he stumbled to another nearby pond and stood on the steep slope of the dam. I suggested that it might be good for him to stand on the flat area by the pond. He said he would be alright. Before long he hocked and landed a 2 or 3 pound bass. I asked if he needed help. He said no. He knelt down on his knees while removing the hook from the fish. I watched as he slowly slumped over and rolled down the hill into the pond. He was laying flat on his back in about four inches of water, but he was still holding the fish right straight up in the air. I asked if he wanted help getting up. He said no; just take the fish off the hook. I suggested that he might get cold lying in the pond, he said not bad. I went and got the truck, and he found a towel to set on behind the seat, climbed in, like nothing ever happened and insisted on opening the gates as we left the pasture.
The first day his hospice nurse, Mary, saw him, she was examining him. When she touched him, he yelled like he had been really hurt. It shocked her and she asked what she had done to hurt him. He laughed and said; " I always wanted to do that." That set the tone of the rest of their relationship as they became good friends. agr
Carney was a true belt and suspenders man. This was most evident when he went coon hunting. Upon arriving at the hunting spot, he would always say don't let the dogs loose until I get ready. This was about the time he would hear the tailgate drop and the dogs running away. Sometimes the dogs would have a coon treed before Carney got his equipment situated. A typical load would include dog leashed plus a spare leash, a flashlight, a spare flashlight, both with spare batteries, matches, band aids, and a compass, an extra pair of gloves, Chap Stick, cough drops, gum, Lola's cookies, a coon squaller, drinking water, duct tape, and far too many clothes. He was a walking Wal-Mart. The ironic thing is it was usually someone else that used his extra stuff. Carney wanted everyone to have everything they needed or wanted. If he knew about a need that he could fulfill, he would try to fill it. If he couldn't do it himself, he would loan his truck, car, tools, or whatever he had that may help. There is a lesson here.
Carney's love of the outdoors and his sharing attitude allow him to introduce many others to the wonders of creation. I remember when Carney took his 6 year old great nephew rabbit hunting one crisp December night. Buck looked up and saw the sky full of bright stars and said we don't have those in San Diego. In Psalms 19, the Bible says; The heavens declare the glory of God; the skies proclaim the work of His Hands. Day after day they pour forth speech; night after night they display knowledge. There is no speech or language where their voice is not heard. Carney shared a part of the Glory of God to others without saying a word about it. There a lesson here.
Hounds were a huge part of Carney's life. For years he kept several large coonhounds, and in later years he kept Beagle rabbit dogs. One unique Black and Tan hound named WC, lived in the house for about 17 years. In hound men circles, it is said there is a dog for every man. In hound dog circles it is said there is a man for every dog, and that man was Carney. He always seemed to attract the unique or odd type of dog that nobody else really wanted. They may have had a problem or bad habit that Carney could overlook. He seemed to focus on their positive points, and would brag on them like they were the best ever. Carney also seemed to apply this same principal to people. He would overlook their faults and brag on the good. There is a lesson here.
Dogs may have been important to Carney, but when he was unable to care for the last dogs that he had, he made arrangements for the removal of the dogs. He did not want Lola to have the job of caring for them. Also he did not want Steve to have the job of getting rid of his dogs. agr
Carney was a Land Surveyor for well over 30 years for Oklahoma City, and surveyed for several developers and engineers for many years after that. He took great pride in the quality of the work he performed. Surveying demands a high degree of accuracy and precision, with constant communication between crew members. Carney worked hard at making work fun for those around him, by teasing, telling stories and pulling pranks. Carney taught many new surveyors the importance of doing their job right, and to always do everything you can to make the other guy's job easier. He also watched out for everyone and made sure they stayed safe. There is a lesson here.
Carney had a deep sense of loyalty to his family. He and Lola wore out many cars and trucks going to thousands of ball games and other sporting events of their kids, grandkids, nieces, nephews, great nieces and nephews. Carney always made a point to attend the family weddings, funerals, reunion and The Campout. Knowing that they put out the effort to support others, and seeming to enjoy their selves while doing it. Where it would have been much easier not to have bothered, will have long term effects. There is a lesson here.
All of the lessons that we can learn from Carney can be pretty much be summed up by putting others first.
When Carney was first diagnosed with this serious cancer. I was pretty mad at God, and couldn't understand why someone like Carney who tried to put others first would have to battle with this problem. On October 19, 2003, I was reading in John, Chapter 11, about Jesus' friend Lazarus. In verse 4, it says; When he heard this, Jesus said, "This sickness will not end in death. No, it is for God's glory so that God's Son may be glorified through it." I knew when I read this, that it applied to Carney and I write the verse, and the date down and WCR in a notebook. I still don't understand it, but I know that is OK. Sometime later, while on one of our rabbit hunting trips, we discussed his illness and I told him it didn't seem fair that he got stuck with this, but we agreed there probably was some reason, and that maybe somebody would be pointed towards Jesus as a result of his experience. A few months ago, Carney told me that he told someone about our reasoning, and that person said they didn't think we were right. He asked me if I thought it would be OK for me and him to still thing what we thought. I said that he and I had never been much on changing our minds up to this point, so why start now. He agreed with no argument.
Looking back, I think we can see where God was in control. What would the odds be to find caregivers that could meed Lola's high standard of care for Carney and that would be able to tolerate Carney's daily teasing and aggravating? I don't think it was coincidence. Yes, these people get paid for doing their job, but no amount of money can but the level of care these ministers have shown to Carney and Lola. They have also brought a presence of peace and love upon their house.
For the last year or so, Carney's favorite words to be have been, "Boy…, I've got a little chore for you". Sometimes that would be followed by "I've forgot what it is right now, but I'll call you when I think of it." Just as Carney thought it was important to be around people, he also wanted people around him.
Well, Family, now I've got a little chore for you. Don't let the last few days, weeks or months of memories overshadow the lifetime of memories that you have with Carney. You have fought and won a terrible battle, and there are probably some wounds that will take a while to heal. I know you don't feel like it, but you are heroes. After the initial shock wears off, and the crying slows down, you might feel lonely, depressed, guilty, angry, maybe even an "I don't care attitude". The good news is that this means you are normal. Eventually there will be a gradual return to hope, reality and some type of normality. The only hope that I have to cling to is, even though Carney's body had a physical death, I chose to believe Jesus when he said this sickness will not end in death. Because Carney chose to believe what Jesus said and did for him, he is with Jesus now. Jesus said he was going to prepare a place for us. I sure hope he is prepared for some serious, just for fun, arguing.
I have noticed some things with our other cousins that have lost a parent. I see more of them at family events. I get more phone calls from them. They have more time to talk and listen and just hang out. They seem to want to hug more than they used to. There might be a lesson here.
Carney enjoyed visitors and liked to reminisce about the past, family and events, hunting and fishing. He always had something uplifting to say and observations about the weather that he could see outside of his windows. He worried about the fact that he could fall asleep while visitors were there. I always him told that everyone understood. They could set by his bed and relax or visit with Lola. It was not wasted time. agr